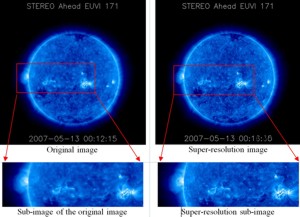 SOHO, STEREO og Solar Dynamics Observatory (SDO) sol-rumteleskoperne vælter data ned så forskerne ikke kan følge med i behandlingen af dataene. Derfor arbejder engelske forskere nu en ny 3D billedbehandlingsmetode

Udover datamængden på Jorden begænses databehandlingen også af den båndbredde man kan nedtage billeder fra satellitterne i.
Metoden går ud på at behandle serier af billeder, og se på forskellene i billederne og derefter automatisk omdanne dem til dynamiske 2D og 3D kort over Solen, så man kan få et overblik over den samlede solaktiviet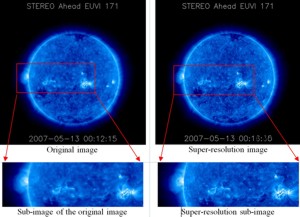 Dr Rami Qahwaji siger "We are now able to process images on the ground so that the resolution is double that of the source images. Most satellites are limited by the amount of data that they can store and download. The ability to turn medium resolution images into high resolution in the lab means that satellites can take smaller images but more frequently, which will help with real-time monitoring of the Sun and predicting space weather"
Resultaterne fremlægges på RAS National Astronomy Meeting i Llandudno denne uge

Kilde: Bradford University